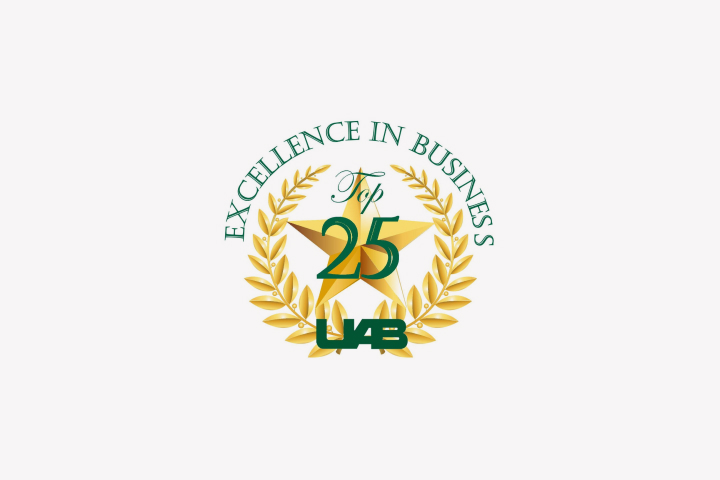 Birmingham, Ala. – Kelley & Mullis Wealth Management, one of the largest independently owned financial services firms in Alabama proudly announces that they have been selected as a member of the 2018 UAB Excellence in Business Top 25. The UAB National Alumni Society designed the UAB Excellence in Business Top 25 program to identify, recognize and celebrate the success of the top 25 UAB alumni-owned or UAB alumni-managed businesses.
Inclusion in the class is earned through company growth over the last three years. The award, however, goes deeper than financial numbers and allows UAB to recognize businesses because of their hard work and dedication.
To be considered for the UAB Excellence in Business Top 25, businesses must be owned, managed or founded by a UAB graduate (or group of graduates) who meet one of the following: owned 50% or more of the company during the most recent eligible period or served on the most senior/division leadership team during the eligible period.
"The University of Alabama at Birmingham provided me with an excellent base for the foundation of my career in wealth management," stated Michael Mullis, managing partner at Kelley & Mullis Wealth Management. "I am a proud graduate of UAB and also proud of our team's success at Kelley & Mullis over the last thirty-two years."
Winners of the 2018 Top 25 awards will be honored during a seated dinner ceremony at the UAB National Alumni Society House on Thursday, June 21, 2018. Visit the following website to read more information: http://www.uab.edu/alumni/programs-events/top-25-awards
For more information please contact Samantha Jarman at Samantha@KCProjects.net or 225-936-4628.
About Kelley & Mullis Wealth Management
Kelley & Mullis Wealth Management firm is an independent wealth management firm located in Birmingham, Alabama. Founded over 25 years ago, Kelley & Mullis takes pride in being an independent firm, allowing them to focus on clients as individuals. With the highest level of quality customer service and the Firm's notable achievements, Kelley & Mullis has been featured in Wealth Magazine, The Wall Street Journal, Birmingham Magazine and Birmingham Business Journal. In addition, Michael Mullis, Managing Partner of Kelley & Mullis Wealth Management, was recognized as one of Barron's "America's Top 1,200 Financial Advisors" and "Top 1,200 Financial Advisors". Mullis was also a Finalist for the Birmingham Business Journal's Top CEOs. Both Michael Mullis and Melissa Brown, Chief Operating Officer, have received top honors such as being named Top 40 Under 40 by the Birmingham Business Journal. Additional information is available at www.kmwealthmanagement.com.
###
The opinions and forecasts expressed are those of the author, and may not actually come to pass. This information is subject to change at any time, based on market and other conditions and should not be construed as a recommendation of any specific security or investment plan. Past performance does not guarantee future results.
Registered Representatives offer securities through Securities America, Inc. Member FINRA (http://www. finra.org/)/SIPC(www.sipc.org). Investment Advisor Representatives offer financial advice through Securities America Advisors, Inc. Branch address: 2008 Stonegate Trl, Suite112 | Vestavia Hills, AL 35242 Kelley & Mullis Wealth Management and the Securities America companies are separate entities. "The third-party comments displayed are not verified, may not be accurate and are not necessarily representative of our client experience." Securities America and its representatives do not provide tax or legal advice. Registered for securities in the following states: AL, CO, FL, GA, IN, LA, MI, MO, MS, NC, NH, NM, OH, OK, PA, SC, TN, TX Written by Securities America for distribution by Michael Mullis.
Barron's Magazine Top 1,200 Advisors in America is chosen based upon a proprietary methodology consisting of three major components: assets under management, revenue generated for their firms, and quality of service and regulatory records. Investment performance is not an explicit factor, because audited performance records are not available. Total assets are all assets overseen by the advisors team, including some that are held at other institutions. The rankings are based on data provided by individual advisors and their firms. Advisor data is confirmed via regulatory databases, cross-checks with securities firms, and conversations with individual advisors. No compensation was received from participating firms or advisors. This ranking is not indicative if the advisor's future performance.